www.
One-day intensive workshop.
2013
Crafts
,
Exhibition Design
,
Context
One-day intensive workshop.
Workshop organized for pica magazine on the theme of transformation of print media with as main materials, newspaper and magazine.
The project is a materialization of the world wide web, its information networks, research routes and junctions, to illustrate the use of the media and represent the web as a place.
This took the form of an interactive installation where passer/user/viewer browses through the threads, chooses to open windows to use or not the information contained therein.
The envelope represents both web pages—through its different sizes (some with windows, some open, some sealed)—and email. this was obvious in terms of transformation of media (print and web).
Other evidence, porn. From the magazine era to the web, it is likely that this subject has experienced a big boom. Therefore, a large part of the envelopes contained pornographic material identified with a black ×.
Guess which disappeared first?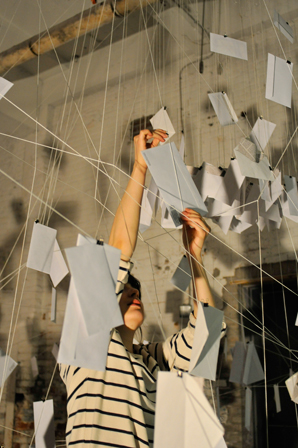 Format
10 × 5 × 10m
Material
Nylon thread (381m), envelopes (250), metal fasteners (250), newspapers, magazines
Teammate
Elizabeth Laferrière, Camille Leblanc-Murray, Émilie Monteiro
Photo
Olivier Mercier-Chan Kane